Easily View Changes to the Budget
Users can pull in changes to the budget from Excel, HeavyBid, or can enter them manually to ensure the budget is always up to date with change order tracking software.
Keep your projects profitable: HeavyJob's job cost integration with change order features updates project managers and accounting personnel in real-time to make sure work is completed and costs are monitored.
Accurate Change Order Tracking
Get instant visibility of where a change order started.
HeavyBid Integration
With HeavyBid, you can add to or modify a copy of the original estimate or create a change order estimate.
Job Costs Dashboard
Easy-to-read dashboard shows job progress by comparing estimated vs. actual job costs and tracks equipment, labor, material, and subcontractor costs.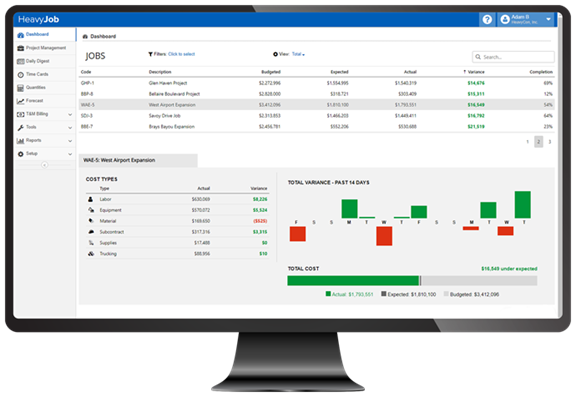 Assistant Project Manager | Nabholz Corporation
Hannah Wiertzema
My favorite feature is the change tracking. It helps us take a change order, put in the system, and then it goes to our budget, and the pay estimate itself. It keeps our jobs up to date and can even import directly from HeavyBid into change tracking in HeavyJob.
Area Manager | Bay Cities Paving & Grading, Inc.
Tom Warner
HeavyJob has allowed us to take control of our workforce by creating accurate quantity records and then performing daily cost analysis to see whether we're on or off budget and to modify our plan of attack if we're off.
Your first product
Start with our field entry & project management software loved by foremen, superintendents & PMs.
Learn About HeavyJob
Pairs well with
Construction estimating software used by over 50,000 estimators across 4,000+ companies.
Learn About HeavyBid